One of three North African sides at the tournament, Morocco are arguably the strongest – but will their apparent "Group of Death" cut their time in Russia short?
A producer of strong club sides in continental competition, Morocco comes into this tournament with a recent trophy win – the African Championship of Nations, or CHAN.
Hosted in Morocco at the beginning of the year, Africa's second major international tournament only allows countries to field domestically based players.
Only two players a part of that winning squad have made it to the "A" team – mainly because this Moroccan side features a lot of players born outside of Africa.
17 out of 23 squad members were born in Europe, which is in stark contrast to the last time the Atlas Lions qualified for a World Cup – only two players that were part of the France '98 squad were born outside of Morocco.
Morocco will not be the first African side to benefit from European produced players – North African neighbours Algeria utilised French Youth System products to their advantage at the 2014 World Cup.
However, whilst other African nations Senegal and Tunisia have called in for European reinforcements, no team will bring as many players that qualify due to parents or grandparents.
But this is not a divided team – instead, it is a regimented, well drilled side that can grind out results when needed.
Group Stage Predictions 
Just like Egypt in Group A, a lot will depend on results going Morocco's way.
Spain's sudden manager change may have a big impact on results – but Morocco should focus on themselves rather than their rivals.
A strong start against the weakest team in the group – Iran – will help the Atlas Lions shape their own destiny, but it is possible that two draws against the two European sides could steer them out of the group – depending on results elsewhere.
The Lions of Atlas will face the current European champions in their second match. Portugal are not a dominating force in terms of quality of results – but they have a remarkable knack of grinding out results no matter the opposition.
Whist Morocco only conceded one goal in qualifying, keeping Cristiano Ronaldo quiet is a different challenge.
Last up is Spain – who should be over the last of their manager troubles. If results have gone Morocco's way, their confidence will be sky-high – but their European neighbours will be their toughest test.
Knockout Stages
If the Atlas Lions do squeeze out of this group, it is likely it will be in second place – meaning it is likely they will face another strong side in Uruguay. For this reason, we don't see Morocco going much further than the Round of 16 – but anything is possible, and this Morocco team can sit back and soak up pressure for fun.
The Squad
Unlike rivals Egypt, there is no out-and-out Moroccan star – no attacking maestro who can score goals from nothing. However, talent is dispersed equally around the side – captain Mehdi Benatia is one of the world's best defenders and has experience in big matches with Bayern Munich and Juventus.
Benatia will be the core of a defence that is mean – they conceded no goals in the final stage of their qualifying campaign. English football fans will recognise Sais, whilst European fans will be keeping an eye on the exciting youngsters Achraf Hakimi and Hamza Mendyl, who are likely to start on the defensive flanks.
Hakim Ziyech is the creative spark in the midfield but he won't solely be tasked with generating chances – Younes Belhanda is equally adept at stringing attacks together.
There are fewer recognizable threats up-top, but that's because most of the strikers Morocco have brought to the World Cup have worked their way up from the bottom – amateur footballers turning childhood dreams into reality.
Expect a hard-working side prepared to grind out results – not pretty on the eye at times, but effective. Cagey matches might be a consequence, but don't write Morocco off just yet.
Formation:  4-2-3-1
Manager: Hérve Renard
The Argentine has instilled his defensive methods in his team – despite not speaking any Arabic. Relying on coaches to translate and relay his points, it is clearly working – in his first 35 games, Egypt only conceded 20 goals.
A journeyman in European club football, this will be Cúper's first stab at the World Cup finals.
Likely Line-up:
Mohamedi, Hakimi, Benatia, Saiss, Boussoufa, Ziyech, El Ahmadi, Harit, Nordin Amrabat, El Kaabi, Belhanda.
Star Man: – Mehdi Benatia
Experience in some of Europe's biggest sides means Morocco's captain won't be fazed coming up against Ronaldo – unless he has flashbacks to his over-head kick in the Champions League.
He is the organiser of a very organised side, but he can be a threat at set-pieces.
One to Watch: – Hakim Ziyech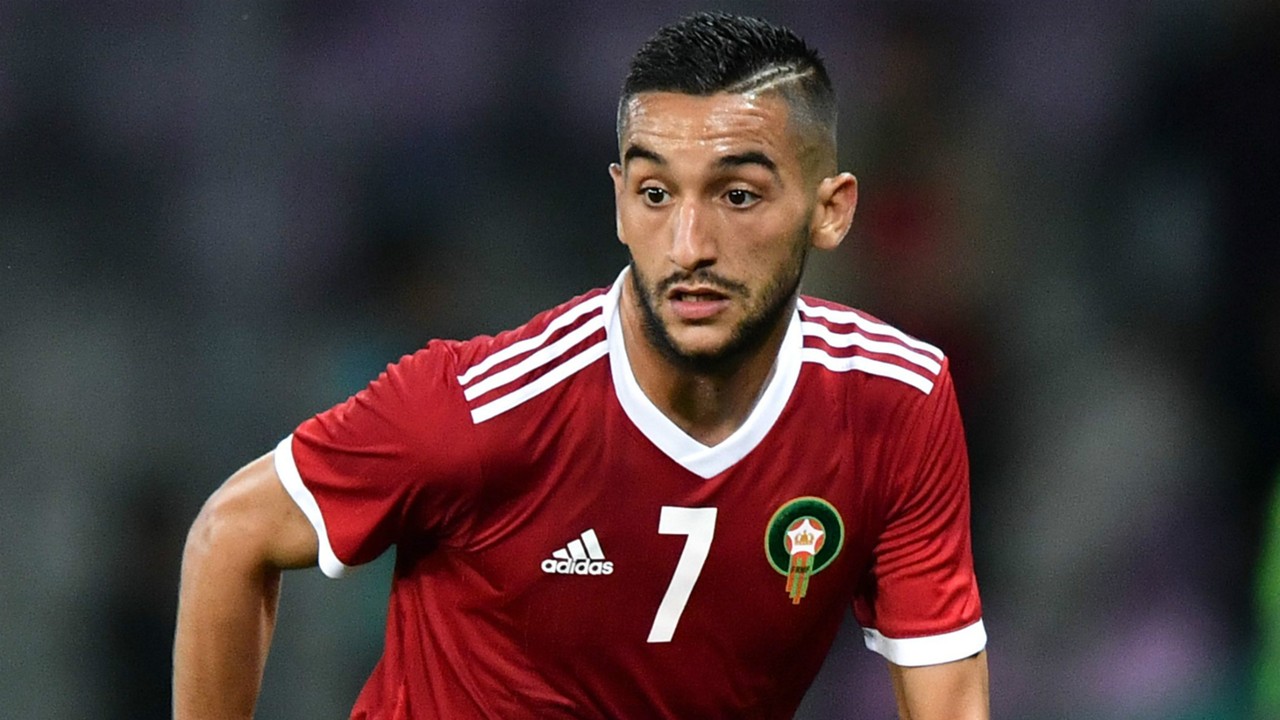 Whilst not a completely unknown quality; Ziyech has slipped under the radar despite playing for Ajax. If he produces, the bigger sides will be sniffing around.
Similar teams in history: – Iceland, 2016 Euros.
A resilient defence with a little bit of creativity makes the two a perfect pair. Morocco would be very happy if they matched Iceland's Quarter final run.
| No. | Pos. | Player | Date of birth (age) | Caps | Goals | Club |
| --- | --- | --- | --- | --- | --- | --- |
| 1 | GK | Yassine Bounou | 5 April 1991 (aged 27) | 11 | 0 |  Girona |
| 2 | DF | Achraf Hakimi | 4 November 1998 (aged 19) | 10 | 1 |  Real Madrid |
| 3 | DF | Hamza Mendyl | 21 October 1997 (aged 20) | 13 | 0 |  Lille |
| 4 | DF | Manuel da Costa | 6 May 1986 (aged 32) | 28 | 1 |  İstanbul Başakşehir |
| 5 | DF | Medhi Benatia (captain) | 17 April 1987 (aged 31) | 57 | 2 |  Juventus |
| 6 | DF | Romain Saïss | 26 March 1990 (aged 28) | 24 | 1 |  Wolverhampton Wanderers |
| 7 | MF | Hakim Ziyech | 19 March 1993 (aged 25) | 18 | 9 |  Ajax |
| 8 | MF | Karim El Ahmadi | 27 January 1985 (aged 33) | 51 | 1 |  Feyenoord |
| 9 | FW | Ayoub El Kaabi | 25 June 1993 (aged 24) | 10 | 11 |  RS Berkane |
| 10 | MF | Younès Belhanda | 25 February 1990 (aged 28) | 47 | 5 |  Galatasaray |
| 11 | MF | Fayçal Fajr | 1 August 1988 (aged 29) | 23 | 2 |  Getafe |
| 12 | GK | Munir Mohamedi | 10 May 1989 (aged 29) | 27 | 0 |  Numancia |
| 13 | FW | Khalid Boutaïb | 24 April 1987 (aged 31) | 18 | 7 |  Yeni Malatyaspor |
| 14 | MF | Mbark Boussoufa | 15 August 1984 (aged 33) | 59 | 7 |  Al-Jazira |
| 15 | MF | Youssef Aït Bennasser | 7 July 1996 (aged 21) | 14 | 0 |  Caen |
| 16 | MF | Nordin Amrabat | 31 March 1987 (aged 31) | 44 | 4 |  Leganés |
| 17 | DF | Nabil Dirar | 25 February 1986 (aged 32) | 34 | 3 |  Fenerbahçe |
| 18 | MF | Amine Harit | 18 June 1997 (aged 20) | 6 | 0 |  Schalke 04 |
| 19 | FW | Youssef En-Nesyri | 1 June 1997 (aged 21) | 16 | 2 |  Málaga |
| 20 | FW | Aziz Bouhaddouz | 30 March 1987 (aged 31) | 15 | 3 |  FC St. Pauli |
| 21 | MF | Sofyan Amrabat | 21 August 1996 (aged 21) | 6 | 0 |  Feyenoord |
| 22 | GK | Ahmed Reda Tagnaouti | 5 April 1996 (aged 22) | 2 | 0 |  IR Tanger |
| 23 | MF | Mehdi Carcela | 1 July 1989 (aged 28) | 20 | 1 |  Standard Liège |